Boylston Properties Introduces 500 Forge, a 120,000-Square-Foot Life Science Building in Arsenal Yards, Watertown
Construction of 500 Forge commenced in March 2021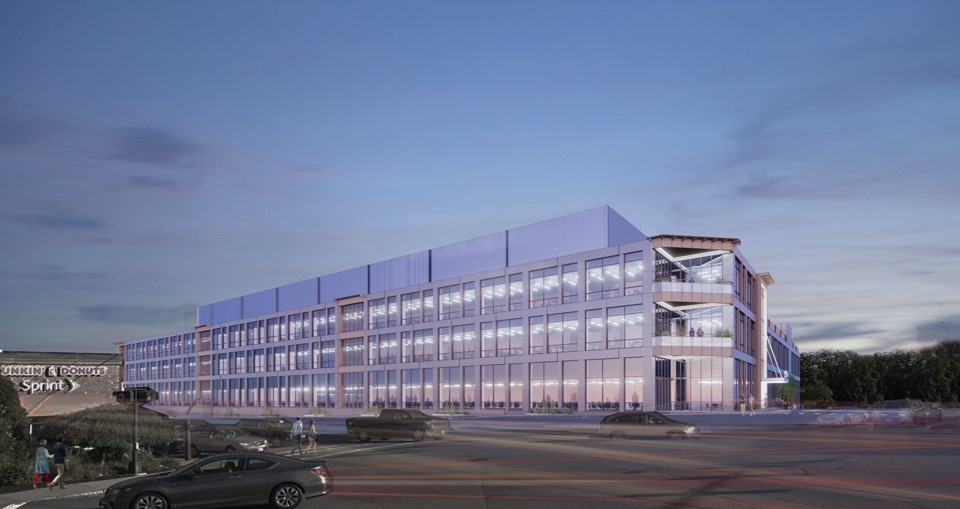 Watertown, MA – Thursday, August 26, 2021 – Boylston Properties, a Boston-based developer of mixed-use destinations, is officially introducing 500 Forge, a transformational life science building and the first building you see as you enter Watertown along Arsenal St., positioned prominently within amenity-rich Arsenal Yards. With 120,000 SF of life science space under construction, 500 Forge is led by the proven development team behind other first class life science development in Watertown, including LINX, 200 Arsenal Yards Blvd, and the future 100 Forge. 500 Forge will be ready for forward-thinking life science companies to move in by August 2022.
The East End of Watertown has become a hotbed of activity as life science companies now occupy over 1M SF of real estate in the area, with an additional 1M sf under development; and Arsenal Yards is in the center of it all. Boylston Properties is transforming 500 Forge into a purposefully renovated life science building featuring 15'-18' ceiling heights, new mechanical systems, outdoor balconies, covered parking, and an ideal first floor for robust chemical and GMP users.
"As one of the first in the area to develop purpose-built life science space in Watertown alongside industry leaders like Alexandria Real Estate, we are ecstatic to see the momentum building within this
emerging cluster on the border of Allston/Brighton and Cambridge.  Arsenal Yards is a life science recruiters' dream with tons of retail, fitness and entertainment amenities for talent recruitment and retention. The community and experience that we are building, which is in its final stage of construction, is attracting best in class life science companies who want the ideal work environment for their teams." – Bill McQuillan, Founding Principal of Boylston Properties.
Construction and demolition began in March 2021, and a $93M construction loan for the project was led by Wells Fargo, with participation from a consortium of banks including BMO Harris Bank and HSBC Bank USA. Jacobs is the architect and PIDC Construction is the contractor of record. Cushman & Wakefield is leading the leasing process in one of the most high-demand markets for life science to date. "In our early leasing conversations, 500 Forge is proving to be a first choice for life science companies that need space to grow," said Duncan Gratton of Cushman & Wakefield. "As the central retail amenity for the rest of Watertown, Arsenal Yards makes 500 Forge incredibly attractive for companies that want to be in the heart of it all. Pair that with Boylston Properties' reputation for building a high-quality life science product and the speed at which companies can move in, we predict 500 Forge will lease up quickly."
Arsenal Yards is a new neighborhood underway by Boylston Properties, The Wilder Companies and J.P. Morgan that boasts over 50 curated retailers and restaurants, a Majestic 7 cinema, Roche Bros. grocer, 300 contemporary apartments, and a 146-room Hampton Inn & Suites by Hilton. Life science companies at Arsenal Yards can take advantage of the Charles River, easy access to public transportation, free shuttles to Cambridge, a dedicated Bluebikes station, bike paths, and over 2,800 parking spaces throughout the property. In addition to dozens of biotech companies in the East End of Watertown, 500 Forge is being built alongside Watertown's newest landmark building: 100 Forge, a purpose-built, nine-story, 165,600 sf allglass life science building at Arsenal Yards. Additionally, Arsenal Yards is home to SQZ Biotechnologies, Arkuda Therapeutics and Kymera Therapeutics, which occupy 108,000 sf in life science space at 200 Arsenal Yards Blvd, in one of the property's original historic Arsenal buildings. Construction of Arsenal Yards is expected to be complete in late 2021, with 500 Forge following close behind in the late Summer of 2022.
About 500 Forge
500 Forge is a gateway to groundbreaking science; a highly visible addition to the dynamic Arsenal Yards campus, offering 120,000 SF of life science space, ready for occupancy by mid-2022. A new purpose-built life science building featuring 15'-18' ceiling heights, outdoor balconies, covered parking and an ideal first floor for chemistry or GMP users, the building is the perfect setting for forward thinking companies. From the proven team behind the successful LINX, 100 Forge and 200 Arsenal Yards Blvd, 500 Forge is a prominent address and property that is being designed to propel companies forward. Please visit https://www.arsenalyards.com/office/ and contact Duncan Gratton of Cushman and Wakefield for more information at this time
About Boylston Properties
Boylston Properties is a Boston-based real estate developer of mixed-use places including retail, residential, hotel, corporate, and life science lab buildings. With four decades of experience and a contemporary vision, their distinctive projects have become part of Greater Boston's new urban landscape. For more information, please visit www.boylstonproperties.com.