The new $150M loan from Northwestern Mutual marks a significant milestone for the property team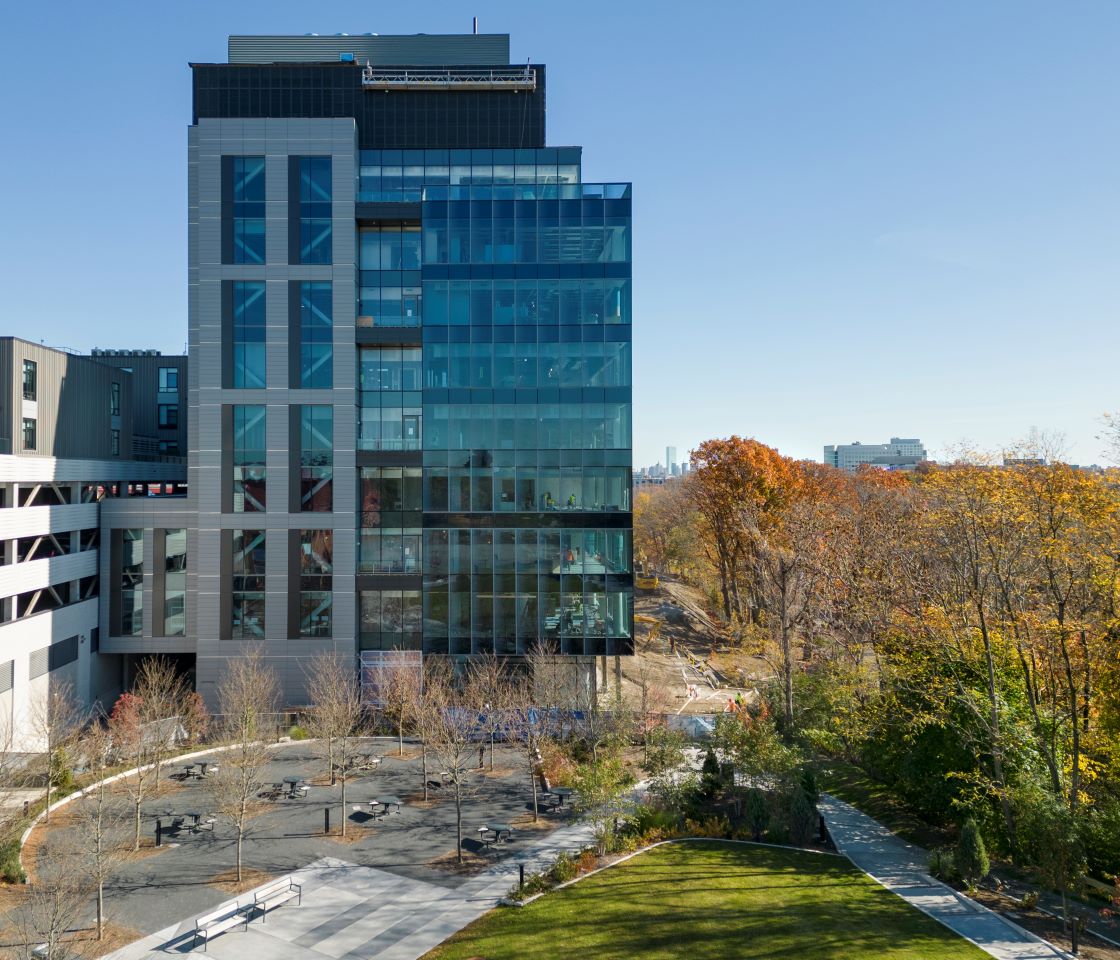 Tuesday, June 20 – Boston, MA – Boylston Properties, a Boston-based developer of mixed-use properties, and J.P. Morgan Global Alternatives today announced that they closed on a $150M loan from Northwestern Mutual on June 1, 2023, for 100 Forge, a premier life science building. Located within the heart of Arsenal Yards along the Charles River in Watertown, MA, the nine-story 165,600 sf Class A building opened in January 2023, and is now fully occupied by five of the most innovative and emerging life science businesses in Greater Boston. The building is owned by Boylston Properties and institutional investors advised by J.P. Morgan Global Alternatives.
"Our team is incredibly proud of 100 Forge, both for the quality and stature of the finished product, but also for all we accomplished in an incredibly challenging environment – from design, construction and engineering, to property management, operations and financing. We are very pleased with the economics of our financing with Northwestern Mutual, and our ability to provide returns to our investors, especially in this climate." – Mark Deschenes, President of Boylston Properties
The transaction was brokered by JLL Capital Markets team, and Boylston Properties and J.P. Morgan will use the funds to pay off a construction loan sourced from Bank OZK in 2021.
This significant achievement marks the completion of the first phase of the project, right as the life science businesses at 100 Forge have settled into their new HQ. At a challenging time for the life science industry in Greater Boston, where talent recruitment and retention are critical,100 Forge is well-positioned to transform the workplace experience for its tenants. Arsenal Yards, and its proximity to Cambridge and Boston, creates a unique urban-suburban experience that helps life science businesses thrive — from dozens of restaurants, bars, shops, and fitness studios, to a hotel, grocery store, movie theater, child care services, apartments, open outdoor spaces, and a vibrant calendar of community events and programming – all within its 1M sf campus.
"We hope the success of this deal serves as a beacon for stalwarts in both the life science and life science real estate industries," said Bill McQuillan, Founding Principal of Boylston Properties. "Despite the significant headwinds experienced this year, Greater Boston is poised to remain the leading destination for science that is quite literally changing the world. We are confident in that continued success for our tenants, our colleagues in real estate, and our region."
The life science campus at Arsenal Yards is at the center of Watertown's biotech cluster, and now includes 10 life science businesses across three buildings: 100 Forge, 500 Forge, and 200 Arsenal Yards Blvd. In addition to owning the properties, Boylston Properties is also the property manager, providing white glove service to its roster of innovative life science companies, including those that call 100 Forge home: Abata Therapeutics, Remix Therapeutics, Mariana Oncology, Vigil Neuroscience and Affini-T Therapeutics.
To learn more about Boylston Properties, 100 Forge, and Arsenal Yards, please visit: www.boylstonproperties.com
About Boylston Properties
Boylston Properties is a Boston-based real estate developer of mixed-use places including retail, residential, hotel, corporate, and life science lab buildings. With four decades of experience and a contemporary vision, their distinctive projects have become part of Greater Boston's new urban landscape. For more information, please visit www.boylstonproperties.com.
About 100 Forge
100 Forge is a new purpose-built, 9-story, 165,600 SF lab building designed by Ayers Saint Gross, a leading architectural firm with an extensive practice in life science and urban campus development projects. Located in the heart of Arsenal Yards, employees have immediate access to its over 50 retailers and restaurants, open space, bike paths, the Charles River, and so much more. 100 Forge is a place where science comes to life and people love to work. Please visit https://www.lifescienceatarsenalyards.com/ to learn more.
About J.P. Morgan Global Alternatives and J.P. Morgan Asset Management – Real Estate Americas
J.P. Morgan Asset Management – Real Estate Americas is the U.S. real estate investment platform of J.P. Morgan Global Alternatives. With US$67 billion (Gross Asset Value as of March 31, 2023) in assets under management and more than 200 professionals, the platform offers real estate strategies that span from core to opportunistic and across debt and equity. J.P. Morgan Global Alternatives is the alternative investment arm of J.P. Morgan Asset Management. With more than 60 years as an alternatives investment manager, US$211 billion in assets under management and more than 800 professionals (as of March 31, 2023), J.P. Morgan offers strategies across the alternative investment spectrum including real estate, private equity, private credit, hedge funds, infrastructure, transportation, timber and liquid alternatives. Operating from offices throughout the Americas, Europe and Asia Pacific, our independent alternative investment engines combine specialist knowledge and singular focus with the global reach, vast resources and powerful infrastructure of J.P. Morgan to help meet each client's specific objectives. For more information, visit jpmorgan.com/am.
About Northwestern Mutual
Northwestern Mutual has been helping people and businesses achieve financial security for more than 165 years. Through a comprehensive planning approach, Northwestern Mutual combines the expertise of its financial professionals with a personalized digital experience and industry-leading products to help its clients plan for what's most important. With more than $558 billion of total assets being managed across the company's institutional portfolio as well as retail investment client portfolios, nearly $35 billion in revenues, and $2.2 trillion worth of life insurance protection in force, Northwestern Mutual delivers financial security to more than five million people with life, disability income and long-term care insurance, annuities, and brokerage and advisory services. Northwestern Mutual ranked 97 on the 2022 FORTUNE 500.
Northwestern Mutual is the marketing name for The Northwestern Mutual Life Insurance Company (NM), Milwaukee, WI (life and disability insurance, annuities, and life insurance with long-term care benefits) and its subsidiaries. Subsidiaries include Northwestern Mutual Investment Services, LLC (NMIS) (investment brokerage services), broker-dealer, registered investment adviser, member FINRA and SIPC; the Northwestern Mutual Wealth Management Company® (NMWMC) (investment advisory and services), federal savings bank; and Northwestern Long Term Care Insurance Company (NLTC) (long-term care insurance). Not all Northwestern Mutual representatives are advisors. Only those representatives with "Advisor" in their title or who otherwise disclose their status as an advisor of NMWMC are credentialed as NMWMC representatives to provide investment advisory services.
About Northwestern Mutual Real Estate
Northwestern Mutual Real Estate is the real estate investment arm of Northwestern Mutual and one of the largest real estate investors in the nation, with investments in commercial mortgages and equity investments across all major property types, including apartments, office, retail and industrial. The $60+ billion real estate investment portfolio is composed of approximately 80 percent fixed income and 20 percent equity investments. Northwestern Mutual Real Estate is a financing source that provides experienced and knowledgeable people, quick and decisive action and flexible, creative solutions.
About JLL
For over 200 years, JLL (NYSE: JLL), a leading global commercial real estate and investment management company, has helped clients buy, build, occupy, manage and invest in a variety of commercial, industrial, hotel, residential and retail properties. A Fortune 500 company with annual revenue of $20.9 billion and operations in over 80 countries around the world, our more than 103,000 employees bring the power of a global platform combined with local expertise. Driven by our purpose to shape the future of real estate for a better world, we help our clients, people and communities SEE A BRIGHTER WAYSM. JLL is the brand name, and a registered trademark, of Jones Lang LaSalle Incorporated. For further information, visit jll.com.